Meenakari jewellery- An Ancient Indian jewellery tradition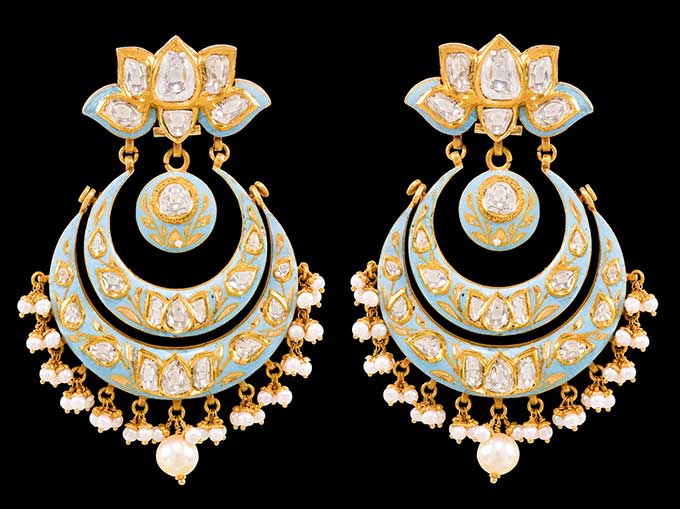 Jewellery is such a fascinating field that making better designs than before have always kept the jewellery designer busy in experimenting them with using new material for new design. Peoples who love to wear jewellery always keep experimenting with some new material for new designs. This experimental idea is the result for meenakari jewellery. The best meenakari jewellery in Rajasthan is found in Antiquariat Jaipur.
Impact of Rajasthan's meenakari in bridal jewellery
The meenakari jewellery design from Rajasthan has influenced the bridal jewellery in past sometimes, well this design of jewellery were very famous in past when it was times of kings and queens, but its work of extraordinary designs have made them be in present jewellery trends. The Rajasthan has been the basic origin of this meenakari jewellery, but it is demanded all over the country. If you are willing to have some finest quality of meenakari jewellery you may try Antiquariat Jaipur which one of the finest jewellery shop of Rajasthan.
What is Meenakari jewellery?
Meenakari jewellery is a kind of jewellery which is designed by the process through coating grooves on engravings ornaments in various colours. A vide variety of metals is used for design which includes brass, copper, gold and silver. The jewellery is hand carved by the professional jewellery artists, the carved designs could be anything like images of gods, goddesses, animals, or any other. The idea behind carving these images on the ornaments are to fill the vivid colours in theses images which make meenakari jewellery a unique look.
Types of Meenakari jewellery
There are mainly two types of meenakari jewellery which are popular, first is "ek rang khula" and the other type is "pancharangi meena".
In ek rang khula enamel, the product is designed by the only one colour, the main idea behind using only one colour in this ek rang khula enamel is that this jewellery may match to the bride's dress easily. It helps to highlight the matching dress of bride which could be easier to provide a perfect bridal look.
The word pancharangi refers to the use of five colours which includes white, pale blue, dark blue, red and dark green. These are considered as the vibrant colours which provide exciting look to the Indian traditional bridal jewellery.
Meenakari jewellery is being designed and marketed as the traditional jewellery in the Rajasthan from ancient time, this jewellery could be found in most of the jewellery shop of Rajasthan but to get the best quality and design we recommend you to make purchases from only the trusted shops like Antiquariat Jaipur. You may know about us by going to the official website, i.e., http://www.antiquariatjaipur.co.in