Makeover with jewellery on a special day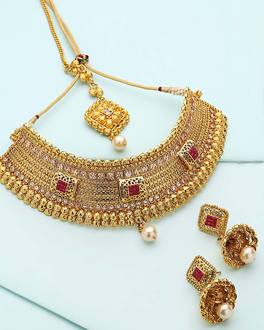 The wedding is a special day for everyone, so it is quite obvious that everyone wants to look special on this day. So for this day shopping of clothes, makeup kits and especially the jewellery shopping are starts before many days from the wedding. A brides makeup is done with a lot of jewellery on this day, in the selection of jewellery for brides there are certain things we should keep in mind which are mentioned below in this post.
Bridal makeup with heavy jewellery
A bridal jewellery makeup should depend upon the wedding dress chosen because it is important to match the colour and pattern of the jewellery with the dress she wearing. A lot of time this kind of mistakes took place so keep certain points in mind and make your wedding pics the perfect snaps.
Do not copy
You should avoid copying a style you have in mind from a someone others wedding or a style you saw in some magazine because it is not necessary that the jewellery set which suited perfectly on your friend will suit you also. We all know that everyone has their own personality and own body language, so avoid copying any style from your memory and try something unique which will suit you and your personality.
Go for quality
In this fashionable world the designs of jewellery does not lasts longer that 2-3 months, so avoid buying a heavy jewellery which is currently in trend because trend changes and your heavy jewellery set design which are in trend at present time will also change and then you will regret to have it because a heavy jewellery comes with a heavy amount while purchasing it and you can't buy jewellery every time the trend changes. So try to go with the quality jewellery which could be a jewellery made of precious and semi-precious stones which never goes out of fashion. If you wish to have a fine quality of jewellery like this you may visit Antiquariat Jaipur which has a wide range of jewellery in various category.
Important points to note down
Before you go for the shopping of your wedding jewellery, note down some points like the colour of your out fit and work on it. Visualise the pieces of jewellery you wish to wear on the day like, mang tikka, anklet, earrings etc..make decision about whether you wish to select a heavy piece or a simple and elegant piece of jewellery. And with these points in mind go to a jewellery shop which has a wide range of jewellery so you would have a choice to pick the best. Like if you wish to buy jewellery in Rajasthan Antiquariat Jaipur would be one of the best options. check our official website for more information, i.e., http://www.antiquariatjaipur.co.in